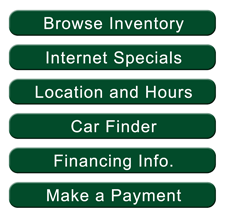 Stop N' Drive Motors - San Antonio, Texas

How would a reliable Car, Truck or SUV make your life better?
Whether it's getting to your job on time, picking up your kids from school ...
or taking a great vacation, we probably have exactly what you need!
We have been operating with integrity and honor in San Antonio since 2005.
We are a Buy Here Pay Here dealership, offering both In House and Bank Financing.
Ask about our 10 Minute Credit Approval Promise.
We serve the San Antonio area, including Bexar and Surrounding Counties.
We probably have the right next
Car, Truck or SUV
that you need ...
and you can drive it home TODAY!

Stop by and visit ... we'd love to meet you.
Stop N' Drive Motors ... a comfortable place to buy a car!
car dealerships san antonio used car dealerships in san antonio used car dealerships in san antonio tx used car lots san antonio used cars in house financing buy here pay here san antonio tx in house financing san antonio used car lots in san antonio tx car dealer san antonio used car dealer san antonio in house financing car dealers in san antonio buy here pay here car lots in san antonio tx buy here pay here san antonio tx stop n car lots in san antonio used cars for sale in san antonio payhere buying a car with bad credit low down payment cars bhph buy here pay here auto sales buy here bad credit car loans car credit down payment on a car car dealerships for bad credit near me no credit check car dealers no credit check car loans no credit check car lots car dealerships near me with no credit check bad credit dealerships used car dealerships near me bad credit bad credit car lots no credit check car loans no credit car dealerships get a car with bad credit no credit bad credit car loans car dealer that accept bad credit car lots near me buy here pay here near me car lots buy here pay here car lots no credit check cars no credit check trucks cars on credit no credit check car finance in house financing car dealers near me in house car financing in house truck financing buying a car with bad credit affordable used cars reliable used cars red mccombs poor credit auto loans used car lots near me by here pay here buy her pay here ford san antonio truck san antonio chacon autos byrider drivetime discount quality tricolor stop drive acura audi bmw buick cadillac chevrolet chevy chrysler dodge ford honda hyundai infiniti infinity jaguar kia lexus lincoln mazda mercedes benz mercury mini mitsubishi nissan oldsmobile pontiac porsche saab ram saturn scion smart subary suzuki toyota volkswagen vw volvo truck car sedan couple suv cuv crossover utility jeep hummer isuzu silverado sierra f150 f-150 dakota tundra titan